T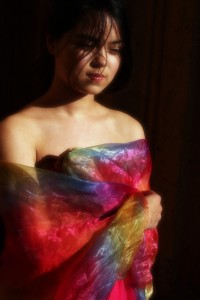 his past weekend, we had the pleasure of welcoming the BeautifulYouth Project's 57th model with a debut shoot near some of San Francisco's beautiful historical landmarks.  Our new model's inaugural shoot also marks the beginning of the Project's 2012 shooting season (our 13th season!).   Our new model is Percy… and even though she's only 12 (almost 13), she comes to the project with a giant portfolio of print modeling work from her experience as a child and preteen model.
Despite the chill air near the ocean, we spent a nice hour-and-a-half shooting Percy in a couple of summery outfits, one formal, one casual, and really just played around a bit with Percy's unique look, owed to her rich heritage which includes a family line that is Arab, Filipino, Caucasian, with traces of many others.  All this is combined in a wonderful model who is poised and possesses a unique look that the camera takes to with ease.
We look forward to more shoots with this talented and beautiful model as the season continues.