The BeautifulYouth Project is a perpetual online artistic creative venture
, focused on recording and displaying the beauty of youth through creative photography and digital expression.
Launched in 2001 with six models, the BeautifulYouth Project has grown to include nearly 90 different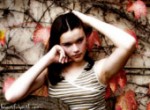 young models, tracking their growth and changes from childhood through adolescence to early adulthood.
The BeautifulYouth Project does not act as a talent agency of any sort. However, as a result of exposure through the BeautifulYouth project, our models have been chosen to appear in music videos, commercial print brochures, and have been considered for roles in independent films.